"In the distant Lylat star system, imagine yourself at the controls of a futuristic, heavily-armed space fighter--Arwing" StarFox by Nintendo, 1993

---

Welcome! This site is devoted to all things relating to the StarFox video game series, particularly the original Super NES games.
Site Updates and Extras
4-2007
The humor page is updated with a video clip, The Hunt for Red Foxtober. It's all in good fun.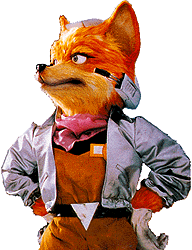 Site Features
A small tribute to the Super FX Inspired by the Super NES game, Vortex, which also had the Super FX and was programmed by Argonaut. This is a real-time 3D texture-mapped box which you can see if you have a VRML plugin (e.g. Live3D, Webspace, CosmoPlayer). If you don't have one, you can download CosmoPlayer for free.
I have a Triforce from the Legend of Zelda series you can view, too!
---
---
StarFox, StarFox 2, StarFox 64, StarFox Adventuresand all characters, images, and likenesses thereof are owned and copyrighted by Nintendo. Trademark and copyright 1993, 1997 Nintendo of America, Inc. All rights reserved by Nintendo of America, Inc.

This is a fan site only and is not supported or endorsed in any way by Nintendo of America, Inc. (NOA), its affiliates, subsidiaries, or parent corporation.